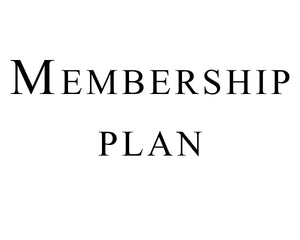 Membership - All In Package
Regular price
Sale price
$49.99
---
This membership allows you to receive our All In Package each month. 
This package includes 5 different Poses, 5 Prints, and 5 Digitals of those poses. You may take photos once during your membership billing cycle. This membership includes up to 3 people which you will list in your notes before checking out. AT THE TIME OF ANY FUTURE PURPOSES, YOUR ID WILL BE REQUIRED TO VERIFY YOUR IDENTITY. For any additional people, there is a 14.99 fee per person. The person signing up must be present at all times of redemption. 
Regular Price for this package is usually $99.99. 
Sizes are 3 - 8x10s and 2 Sheets of 5x7s (2 pictures on each sheet)
THERE'S A 2 MONTH COMMITMENT FOR THIS MEMBERSHIP. THE MEMBERSHIP CANNOT BE CANCELED IN MONTHS 1 AND 2. YOU MAY CANCEL AFTER YOUR SECOND BILLING IF YOU CHOOSE TO. 
ALL MEMBERSHIPS RENEW EVERY 30 DAYS - Once Charged for the Month, membership fee is non-refundable. If you want to cancel, it must be prior to you being charged for the month. 
 

All In Membership

10 Digitals Membership

Print your OWN photos Membership

Cost

49.99

49.99

49.99

Renews

Every 30 Days

Every 30 Days

Every 30 Days

How many times can I use this membership per billing cycle (30 days)

Once after each billing cycle

Once After each billing cycle

Unlimited

Benefit

5 Poses, 5 Prints, & 5 Digitals of those same poses (reg price 99.99)

10 Digital Photos (reg price $119.99)

75% off print from phone pricing

How Many people can be added

3 People

3 People

1 Person

What if I have more than 3 people in my session

$14,99 Charge per Person

$14,99 Charge per Person

N/A

How many months am I required to keep this membership

2 Months

2 Months

2 Months

How do I cancel

Via your confirmation email and online portal

Via your confirmation email and online portal

Via your confirmation email and online portal

How many backgrounds and Outfits

Up to 2 backgrounds and up to 2 outfits. This is determined by the time. Shooting time will be up to 30 minutes.

Up to 2 backgrounds and up to 2 outfits. This is determined by the time. Shooting time will be up to 30 minutes.

N/A

Do I have to be present if others are using my membership

The person who signs up for the membership each time it is being used and an ID must be present to verify your identity.

The person who signs up for the membership each time it is being used and an ID must be present to verify your identity.

N/A

How will you know the 3 people on my membership

You will enter the names in the notes when you are signing up for the membership

You will enter the names in the notes when you are signing up for the membership

N/A

Can I have more than one membership at a time

Yes

Yes

Yes

What's the catch?

No Catch – We just want to save those that visit us often some money

No Catch – We just want to save those that visit us often some money

No Catch – We just want to save those that visit us often some money

How Do I sign up?

Visit www.ItsPicsAndPrints.com

And click on memberships